In this article I'm going to explain Windows Background services, what they are and how you can control them. Now I'm writing this to give you a general overview and as such I don't plan to go too in-depth, at least not in this article. What are Windows Background Services? To my knowledge (as limited as it may be), all versions of Microsofts Windows operating system's use services to control how certain elements of the operating system, or how certain applications behave.
Have a look at
window
for more info on this.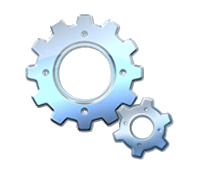 If you are a Windows XP user then you most certainly will have seen the little yellow shield in your taskbar that notifies you new updates for your operating system are available. This automatic updating service is controlled by a background service which can be switched on or off if you so please. So how do you see what services are running on your computer? To see a list of all the services currently installed on your system follow these steps: Click the start button on your taskbar. Click Control Panel in the start menu. When the control Panel window appears switch to classic view if its not already set that way. Double click the Administrative Tools icon. Double click the Services icon.
If you follow those steps on Windows XP and Vista you will be presented with a window showing you the services currently installed on your system. How do you stop/disable a service? There could be any number of reasons why you would want to do this, for example a particular service installed by an application may be causing your system to act in unpredictable ways or you're just curious and want to see what happens when you stop a particular service.
Regardless of what your reasons are, the following steps outline how you can stop or disable a service from running: In the window with the list of services, find the service you wish to stop/disable. Right click on the service name and select Properties. In the properties dialogue window for that service click the stop button. This will only stop the service for the duration of time your computer is running, to disable it from starting at all follow step 4. With the properties dialogue window still open look for the drop-down list box called Start up type and select Disabled. Click the apply button and then close the window. You have now completely disabled the service from starting at all. The smooth operation of any Windows operating system relies on certain services always being enabled, so be very careful and always read the description for each service before stopping or disabling it or you may find your system un-usable.